By MycoMeditations
Introduction
MycoMeditations data on therapeutic client outcomes in the treatment of post-traumatic stress disorder consists of PCL-5 data from client surveys.
All data represented here was collected between June 2021 and August 2023 with the consent of MycoMeditations clients. The final results have been subject to third-party data analysis to ensure accuracy, consistency and transparency. Those clients whose responses are represented here were those who met or exceeded the clinically recommended cut off score of 31 on the PCL-5 for potential PTSD diagnosis.
This data is not and does not attempt to constitute either an academic study or a registered clinical trial in its procedure, structure, or review process.
Population: Real-World Clients
MycoMeditations clients involved in this survey, while seeking therapeutic outcomes for PTSD, do frequently suffer from comorbid conditions such as various forms of depression, anxiety, and/or alcohol use disorder (AUD) or other forms of addiction, among others.
As such, this population is more representative of a real-world pool of PTSD sufferers than is otherwise found in the participants of clinical trials, in which such comorbidities are often screened out.
Preparation, Dosing, and Integration Protocols
The survey, which was optional to participate in, was completed by clients enrolling in the seven-day psilocybin-assisted retreat program at MycoMeditations, where they received preparation for their psilocybin sessions, three dosing sessions spaced on alternating days, and group integration on the days between each dosing session. After the retreats had concluded, clients were also encouraged to participate in two group integration sessions via Zoom.
Clients were administered dried Psilocybe cubensis, which is cultivated on-site and encapsulated into 0.5g capsules. MycoMeditations' dosing regimen is highly standardized for utilizing whole psilocybin mushrooms with an escalating dosing protocol over the course of the three (3) sessions. The dose in grams from Session 1 has an average SD of 3.69 ± 1.25. Session 2 has an average SD of 6.51 ± 1.66 and Session 3 has an average SD of 7.80 ± 3.17. The total dose over the duration of the retreat has an average SD of 18.00 ± 4.87.
Throughout this data collection period, MycoMeditations explored the impact of its all-inclusive psilocybin-assisted therapy retreats, particularly on clients who joined the retreat indicating PTSD symptoms in their baseline mental health survey. MycoMeditations utilized the PCL-5 for this study, which is a standardized self-report rating scale comprising 20 items that correspond to the key symptoms of PTSD.
Results 
The results of this data collection demonstrate that guests who indicated struggling with PTSD at baseline (average PCL-5 score = 43.04) showed a large reduction in self-reported PTSD symptoms at one-month post-treatment (average PCL-5 score = 17.90). Evidence suggests that a 5-10 point change in the PCL-5 represents reliable change (not due to chance) and a 10-20 point change represents clinically significant change. The study's clinically significant reduction in PTSD symptoms among these guests is sustained at the 12-month mark post-retreat.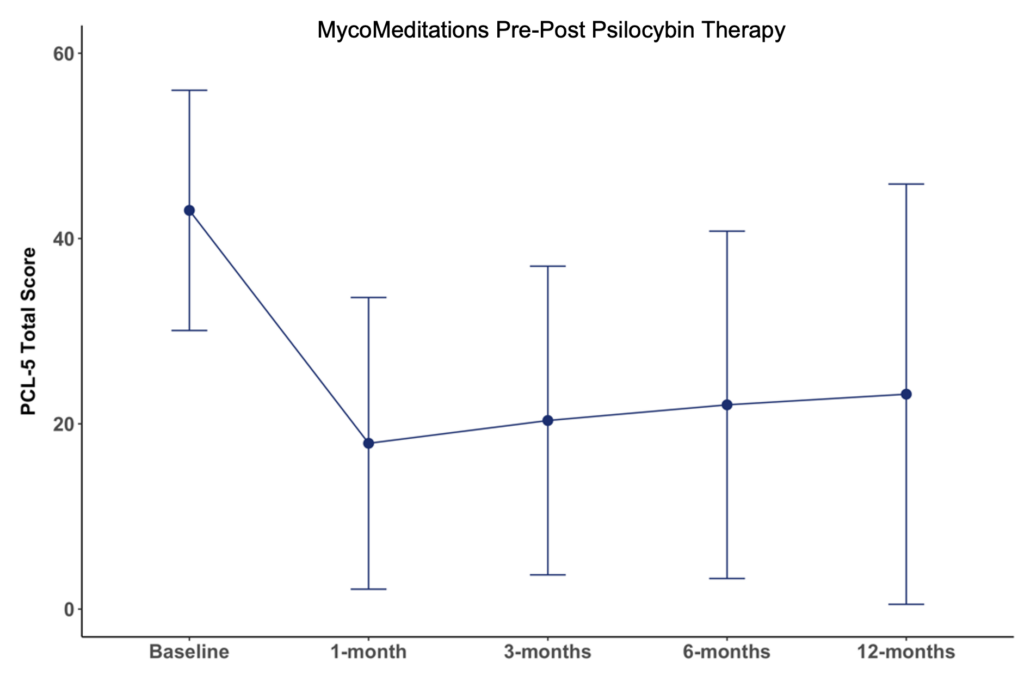 Given the comparable data points to existing psychedelic clinical trial results for PTSD and the continuously expanding potential for applications of psilocybin in therapeutic contexts, MycoMeditations hopes that this information will encourage the ongoing exploration of psilocybin's "transdiagnostic applicability," a term coined by renowned researcher Dr. Roland Griffiths to describe his hopes for psychedelic-assisted therapies.
The PCL-5 averages for 1-month, 3-months, 6-months and 12-months post retreat can be seen in the chart below:
| | | | | | |
| --- | --- | --- | --- | --- | --- |
|   | Timepoint |   | n |   | Mean (SD) |
|   | Baseline |   | 100 |   | 43.04 (12.97) |
|   | 1-month |   | 39 |   | 17.90 (15.74) |
|   | 3-month |   | 28 |   | 20.36 (16.66) |
|   | 6-month |   | 20 |   | 22.05 (18.75) |
|   | 12-month |   | 10 |   | 23.20 (22.68) |
|   |   |   |   |   |   |
The data presented here do not account for a number of post-retreat lifestyle factors, including therapeutic support and approach to self-care undertaken by clients once back at home. Some clients did not complete or have not reached all follow-up assessment time points. While additional monitoring beyond the post-retreat integration window was not possible at this time, MycoMeditations is continually exploring ways to support the ongoing therapeutic treatment of its clients and always recommends full follow-up and integration procedures as well as continual, conventional mental health support and care in order to ensure the best long-term psychological outcomes.
MycoMeditations' ongoing observations also examine outcomes for depression, generalized anxiety, social anxiety, and OCD, where preliminary results will soon be released. MycoMeditations will continue compiling these additional data points and eventually conclude these observations. The finalized data will then be examined with an academic partner.
Overview of Conclusions
Results are long-standing, with minimal rise in symptomatology between one and 12 months post-retreat.
Results for MycoMeditations show greater and quicker outcomes shortly after treatment (when comparing 1-month data).
MycoMeditations results are comparable to the MAPS PBC Phase 3 trial outcomes. MAPS PBC data, utilizing the CAPS-5 scale, showed the baseline score of 44.0 fell to 19.6 (-55.5%) after 18 weeks. At three months post-retreat, MycoMeditations data, utilizing the PCL-5, showed a 52.7% reduction in symptoms between baseline (43.0) and three months post retreat (20.4). This is largely sustained at six months post-retreat with 48.8% reduction in symptoms.
Psilocybin in group therapeutic retreat settings may be a viable treatment for PTSD when supported with individual therapy.
About MycoMeditations
MycoMeditations operates legal psilocybin-assisted retreats in Jamaica for individuals seeking both therapeutic outcomes and personal growth. As a world leader in the evolving fields of psychedelic therapy and wellness tourism, its success is driven by its commitment to providing safe, life-changing, and spiritually-affirming experiences to its clients in beautiful natural settings. Guided by expert facilitators and mental health professionals, the MycoMeditations team brings together diverse skill sets and a deep knowledge base to create professional and personalized retreats, all while investing in the local Jamaican community. Since 2014, MycoMeditations' unique psilocybin-assisted retreat protocols have helped over 2,000 clients by administering over 6,000 doses of therapeutic psilocybin.